Laminate Flooring in Lansing, MI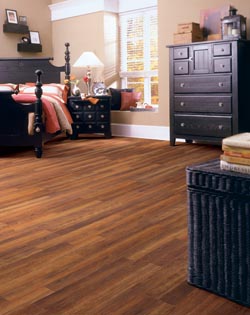 Update your home without paying a fortune to do it. When you need a change of pace in your space, the laminate flooring in our showroom helps you transform the interior of your home.
You get an attractive and durable brand of flooring at an affordable price. Laminate floors deliver a value-added option that expands your design ideas in many ways. Our laminate flooring helps you broaden your decorating plans without forcing you to sacrifice the quality you want.


Visually Appealing Laminate Wood Flooring
The rustic charm of traditional hardwood is no longer beyond your budget when you take advantage of the affordable laminate wood flooring at our warehouse showroom. Experience a more luxurious look in your kitchen or living room by choosing from our vast inventory of laminate floor options. Our wood floors made from laminate create an atmosphere of warmth and comfort in any home, and they withstand the regular foot traffic of day-to-day family life. This customer favorite allows you to get the most for your design dollar. It also offers creative ways to show off your design preferences.


Durable Laminate Tile Flooring
Save time and money on your next kitchen or bathroom remodeling project with the stunning yet affordable selection of laminate tile flooring featured in our showroom. Your home improvement project can be completed in less time as well. This laminate tile flooring stand the test of time, and it immediately impresses any guest visiting your home. Don't limit your design options when rejuvenating the interior of your home. Instead, choose from our vast assortment of colors and textures in laminate floors.


Laminate Floors Make Sense
This innovative alternative to traditional flooring is expanding the design capabilities of families across our area. The laminate floors we offer are durable and easy to clean as well. Modernize the look and feel of your home by taking advantage of this economical and attractive flooring solution. These floors enhance the value and appeal of any room you love. Allow our friendly and knowledgeable sales agents to help you find the perfect style at a price you can afford.


Experienced Laminate Flooring Installation Specialists
From the moment you step through the doors of our showroom until your laminate flooring installation is complete, we work with you hand in hand throughout the entire process. We are focused on building a lasting relationship with you and your family, and our commitment to professional laminate flooring installation is part of that promise to you.
We focus on your complete satisfaction. Our goal is to ensure your floors last a long time and provide years of lasting beauty. Take advantage of the value and style that our laminate flooring makes in your home. Ask about our special guarantees on our products and services when you visit us.



Contact us today for an expansive selection of laminate flooring in every style and color imaginable. We proudly serve customers in Lansing, MI, as well as Okemos, East Lansing, Holt, Haslett, and the surrounding areas.