Waterproof Flooring in Lansing, MI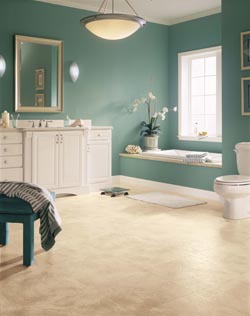 Demand more of your flooring. When you step into our showroom you discover the newest advance in floor coverings--waterproof flooring in Lansing, MI. We carry different types, brands, styles, and colors of this practical and stylish flooring for the homeowner who insists on high performance.
Ask the sales and design professionals in our store to show you samples of waterproof flooring in laminate, vinyl, and carpeting. It is perfect for busy homes that need floors to withstand moisture and still look attractive.


Trusted Brands of Waterproof Floors
Look for innovation from these brands of waterproof floors that make life so much easier for everyone. You do not have to worry about the harm that liquids do, which makes cleanup so much faster. Consider these waterproof brands for your home:
COREtec--A waterproof core is what gives this brand its resilience. In fact, this product from flooring manufacturer USFloors is hailed as the next step in luxury vinyl flooring. The company calls this engineered vinyl plank because of the core. With the look of real wood, but the resilience of vinyl, this flooring can even be submerged in water for long periods of time without doing any harm.

Shaw--Trust this respected manufacturer to come up with both carpeting and vinyl flooring that stand up to water and stains. This waterproof carpeting has a backing that keeps moisture from ruining your carpet. This soft and beautiful carpeting is ideal for households with pets and children. Another breakthrough in technology includes Shaw's waterproof vinyl known as Floorte, which is made with Shaw's LifeGuard Resilient core. Find the look of stunning hardwood that can be installed in any room.

Mohawk-- Mohawk has come up with 100% waterproof flooring in luxury vinyl tile or plank. Advances in engineering have resulted in floors that offer good looks and moisture resistance. Another plus is that this flooring actually eliminates the nasty odors from mold, mildew, and pet stains.

Downs--This manufacturer is so confident about its waterproof floor coverings that it is called Downs H2O. Advanced technology has enabled the manufacturer to create handsome flooring with the authentic appeal of hardwood that is able to withstand children's spills and pet accidents. This flooring is ideal for every room in your home, especially those that make use of water, such as the bathroom and kitchen.


Install This Flooring Anywhere in Your Home
Be sure to schedule installation for your new waterproof floors. Our skilled and experienced technicians know how to lay this flooring for maximum beauty and longevity. But the best thing about waterproof flooring is that by its very nature it can be installed in any room of your home because liquids do no harm.



Contact us now for your free in-home estimate on waterproofing flooring for your home. We proudly serve the communities of Okemos, East Lansing, Holt, Haslett, and Lansing, Michigan, and the surrounding areas.