Luxury Vinyl Flooring in Lansing, MI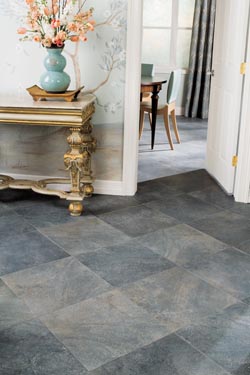 The authentic appeal and durability of our luxury vinyl flooring in Lansing, MI, is making this floor covering more in demand than ever before. For help in choosing this flooring option, come into our expansive showroom and partner with our flooring specialists. We have numerous different styles in an abundant array of brands, colors, and textures. Our luxury vinyl flooring starts at $3.49 per square foot.
Choose this floor covering in a style that complements your home décor. Our selection includes vinyl that looks like ceramic, porcelain, or stone tile, as well as different species, grains, and finishes of hardwood. Our sales and design professionals are ready to show you samples and help you find the perfect flooring for your home. Trusted brands of vinyl flooring include the following:
Professional Installation for Enduring Beauty
No matter what style you choose, be sure to ask us about luxury vinyl flooring installation. When you want your floor coverings to look great and last for many years, choose professional installation. Let us schedule a convenient day and time for our installers to come to your home. These professionals make sure the flooring is installed correctly so that it stays in place and withstands shifting or tearing.
The key to successful installation is preparation. Our installers lay vinyl on a clean, dry, and flat surface, making sure that it adheres securely. We place each piece carefully, so that it lines up and is snug against the rest of the flooring. You can be confident in our installation because it comes with a lifetime guarantee for any installation-related issues. With our guarantee, we fix any problems you have with installation at our expense.


Vinyl with the Look of Real Wood
Everyone loves the look of hardwood floors, but not everyone wants to install hardwood in their home. With our wood-look vinyl plank, you get the look of real wood down to the grain and whorls on high-performance flooring that resists moisture, offers easy cleanup, and needs no maintenance. As a matter of fact, our flooring is so stunning that we call it luxury vinyl plank.


Vinyl That Mimics Stately Stone Flooring
Add beauty and value to your home with our luxury vinyl stone. Stone imparts an earthy elegance that homeowners love. Our showroom has a wide variety of choices in vinyl with all the stateliness of stone and without the weight. Plus, our luxury vinyl is so easy to live with that you and your family will enjoy its beauty and convenience for many years to come.



Contact us now for your free in-home estimate for gorgeous and functional luxury vinyl flooring. We proudly serve the communities of Okemos, East Lansing, Holt, Haslett, and Lansing, Michigan, and the surrounding areas.