Shaw LVT Flooring in Lansing, MI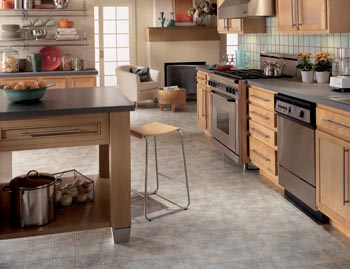 Modernize any interior with our selection of Shaw LVT flooring in Lansing, MI. After years of foot traffic, spills, and changes in the weather, your existing floors may look a little worse for wear. The floors in your commercial or residential space are the foundation of the entire design theme, so your choice of flooring product is critical.
Visit Flooring America Carpet Studio and speak with a design specialist about your flooring needs. Our team is eager to get started planning your new interior. We consider the entire space and ask the customer essential questions about the existing décor and the available budget for their improvement project. While choosing home flooring may seem like an overwhelming process, our extensive selection and competitive pricing make a big difference.
Our association with a national retail flooring group allows us to pass on tremendous savings to our customers. We also offer an innovative vinyl tile product that gives any room an added sense of luxury. Through the latest manufacturing advancements, resilient-vinyl now features a photo-wear layer that looks as authentic as natural wood, stone, and porcelain. LVT provides the customer with design versatility and added value for the entire home.
A Comprehensive Approach to Flooring
When you walk through the doors of our expansive showroom, you will immediately notice the difference that we offer. Our store is filled with products from leading manufacturers like Shaw that make quality a priority. From the moment you pick the floors that fit your design outlook and your budget, to the moment the installation is complete, you are supported by our team of dedicated flooring specialists.
Installation is a critical step in the process when it comes to vinyl floors. We proudly offer luxury vinyl tile installation at competitive pricing. When you consider the damage that water can cause to the subfloor below your vinyl purchase, it just makes sense to choose our team to complete your project. Each contractor arrives on time for every project, and they bring the most advanced tools available.
We want the product you purchase to fit the space, and that starts with accurate measurements. During the design process, we ask critical questions about the dimensions of the area. When it comes to getting the most out of your flooring investment, choose a group that makes quality their priority.
The Right Floors for Every Client
Use our 5 Star Selection system to identify a flooring product that gives you the installation guarantees and price protection warranties you need. Every product carries some type of installation guarantee, and that makes a big difference with luxury vinyl tile. Identify a product from Shaw that matches your décor and your available project budget.
Substandard installation could lead to added repair costs down the road, so hire a contractor that understands how to get the most out of the flooring you have purchased. When you consider the design versatility that comes with LVT, you can begin to consider adding new flooring to other rooms in your home. Our luxury vinyl allows you to add the character and charm of hardwood to places that experience higher degrees of moisture. While hardwood is an excellent addition to any den or dining room, LVT is the right choice for those decorating a kitchen or a laundry room.
Learn more about your design choices when you visit our showroom for LVT and traditional tile flooring. You are sure to find a flooring product that will make any home or business more valuable and appealing.

Contact our flooring store today for more information about our luxury vinyl tile options. We proudly serve the communities of Okemos, East Lansing, Holt, Haslett, Lansing, Mason, Williamson and Haslett, Michigan.