Stylish COREtec Waterproof Hardwood Flooring in Lansing, MI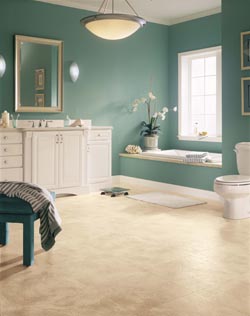 Beautify and protect your home by selecting water-resistant flooring from Flooring America Carpet Studio. In our vast inventory, you are going to find a wide variety of types, brands, styles, and colors. Also, our friendly staff will help you make the best choices for your residence. its attractive appearance.
Looking Good and Lasting Long
The waterproof laminate, vinyl, and carpet flooring we carry will suit your needs, including COREtec waterproof hardwood flooring in Lansing, MI. This floor retains its good looks while withstanding the high traffic areas of busy homes. With COREtec, you get a floor that is easy to clean and provides the stylish appearance of hardwood that many homeowners crave
Skillful and Precise Installation
When you schedule the installation of your waterproof flooring, our skilled and experienced technicians will lay the product for long-lasting beauty. We can install this in any room of your home, such as the kitchen or bathroom, thanks to its high level of moisture resistance. They'll even work well outside on your patio if you so choose.
Your choices range from flooring that replicates the look of natural stone, tile, or hardwood, and that means you get a range of looks combined with quality and protection. No matter which type you choose, COREtec hardwood, for example, maintenance will be a breeze thanks to its ease of cleanup. Simply sweeping or mopping the floor will bring back its dazzling appearance, it's as easy as that.
With your waterproof vinyl flooring or similar type, you are assured of quality as we stand behind our products to give you peace of mind that you've made the right choice for your home or workplace. Trust our friendly and experienced associates to help you make that decision.



Contact us now for your free in-home estimate on waterproofing flooring for your home. We proudly serve the communities of Okemos, East Lansing, Holt, Haslett, and Lansing, Michigan, and the surrounding areas.