Water-Resistant Flooring in Lansing, MI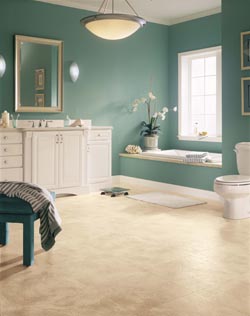 Demand more of your floor! When you step into our showroom you discover the newest advancements in floor coverings – water-resistant flooring in Lansing, MI. We carry different types, brands, styles, and colors of this practical and stylish flooring for homeowners and business owners that insist on high performance.
Ask the sales and design professionals in our store to show you samples of waterproof flooring in laminate, vinyl, and carpeting. It is perfect for busy homes that need a floor that withstands moisture while maintaining its attractive appearance.
Trusted Waterproof Flooring Brands
The innovative brands of waterproof floors we carry make life so much easier for everyone. You do not have to worry about liquids and moisture that cause harm to your floor. This makes cleanup and maintenance so much easier. Consider these waterproof brands for your home:
COREtec -- A waterproof core is what gives this brand its resilience. In fact, this product from flooring manufacturer USFloors is hailed as the next step in luxury vinyl flooring. The company calls this engineered vinyl plank because of the core. With the look of real wood, but the resilience of vinyl, this flooring can even be submerged in water for long periods of time without doing any harm.
Shaw -- Trust this respected manufacturer to come up with both carpeting and vinyl flooring that stand up to water and stains. This waterproof carpeting has a backing that keeps moisture from ruining your carpet. This soft and beautiful carpeting is ideal for households with pets and children. Another breakthrough in technology includes Shaw's waterproof vinyl known as Floorte, which is made with Shaw's LifeGuard Resilient core. Find the look of stunning hardwood that can be installed in any room.
Mohawk -- Mohawk has come up with 100% waterproof flooring in luxury vinyl tile or plank. Advances in engineering have resulted in floors that offer good looks and moisture resistance. Another plus is that this flooring actually eliminates the nasty odors from mold, mildew, and pet stains.
Downs -- This manufacturer is so confident about its waterproof floor coverings that it is called Downs H2O. Advanced technology has enabled the manufacturer to create handsome flooring with the authentic appeal of hardwood that is able to withstand children's spills and pet accidents. This flooring is ideal for every room in your home, especially those that make use of water, such as the bathroom and kitchen.
Durable, Stylish, & Affordable Floors
Be sure to schedule installation for your new waterproof floors. Our skilled and experienced technicians know how to lay this flooring for maximum beauty and longevity. But the best thing about water-resistant flooring is that by its very nature it can be installed in any room of your home because liquids do not harm it.
Create unique appeal in the bathroom or kitchen with a waterproof floor covering. These products add value as well as ambiance. In addition, they are able to mimic the appearance of hardwood, tile, or natural stone. Best of all, you can put them anywhere – even outside on your patio if you'd like. Since these floors have waterproof cores, they do not degrade, expand, or rot. At the same time, they prevent liquids and moisture from seeping into the subfloor. Do you want a floor that's easy to maintain? Waterproof flooring is an excellent choice. Simply sweep and mop whenever it is dirty. They also hold up well under heavy foot traffic.
Don't worry about water damaging your new floors. Waterproof flooring is built to withstand the wettest rooms. Bring the beauty of hardwood, carpet, and vinyl into any room. Yes. We even have waterproof carpet! That means you can have something soft underfoot and flooring that doesn't degrade. Protect your carpet from spills, pet accidents, and moisture by letting us install waterproof carpet. Not only are these carpets stain resistant, they do not suffer from water damage.
In fact, they also prevent water from penetrating the floor beneath. Instead of worrying about your carpet, why not let our carpet ease your concerns. Our state-of-the-art carpets offer a level of protection that ordinary carpets cannot. Using advanced manufacturing techniques, these products are designed for active living and moisture-prone environments, such as patios, mudrooms, and bathrooms.
You need an attractive-looking floor, but you also want it to resist water. We carry and install waterproof flooring that is ideal for any room that gets wet. But that doesn't mean you have to settle for a floor that's bland. Our products come in many shapes, designs, and colors. In fact, they are created to look like wood flooring, ceramic, and stone. In other words, our floors are stylish, durable, and appealing – as well as affordable.
Spend your money on floors that last. Due to their composition, waterproof floors stand the test of time. While some floors have a limited life span, water-resistant flooring lasts much longer. They are manufactured using materials that hold up even in the wettest environments. Visit our store for assistance if you need waterproof flooring that is durable and appealing. One of our friendly and experienced associates can help you choose a product that suits your needs.

Contact us now for your free in-home estimate on waterproofing flooring for your home. We proudly serve the communities of Okemos, East Lansing, Holt, Haslett, and Lansing, Michigan, and the surrounding areas.