Incredible Wood Look Tile in Lansing, MI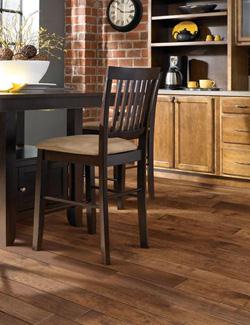 Add a new level of character and class to your home by turning to us for wood look tile in Lansing, MI. By taking advantage of the new advances in imaging and manufacturing technology, it is now possible to bring the beautiful look of wood flooring into your home while getting all of the benefits of tile. At Flooring America Carpet Studio, we offer the latest in this versatile product from the top manufacturers in the industry.
It is no longer difficult to replicate the charm of hardwood flooring in rooms where natural wood has trouble holding up. Laundry rooms, kitchens, and bathrooms tend to be too moist, causing hardwood to expand and contract. This constant change causes wood to wear out. This causes designers to steer away from wood altogether in these rooms. Fortunately, there is a solution in the form of wood plank porcelain tile and its ceramic counterpart.
Our selection of wood look flooring allows you to replicate the appearance of elegant hardwood in spaces where it is not possible to have natural wood. Each of our products is produced by firing the finest of clays, and then imprinting them with patterns that mimic wood down to the grain.


Tile Holds Up to Modern Life
Tile has been the go-to material for bathrooms and kitchens for generations. With the right contractor, wood plank ceramic tile can be cut to fit any space, fitting into every nook and cranny in your kitchen or bathroom seamlessly. On the other hand, porcelain has the ability to cover the walls in your bathrooms and kitchen with backsplashes to ensure that water cannot seep in.
Both ceramic and porcelain have great durability and longevity. Better yet, they are incredibly easy to care for, holding up to the spills and stains that many other varieties of flooring would hold onto. Porcelain and ceramic wood tile are both excellent choices for the busy household, withstanding pets and children like nothing else while giving you the beauty you expect from hardwood.


Giving Every Project Our Full Attention
Sit down with a member of our team today to go over all of your options. We'll be on your side from start to finish, providing the design expertise and resources you need to get the perfect floors, whether you want ceramic or porcelain tile. We are here for you no matter what type of flooring you decide on.



Contact our flooring showroom to find out more about our selection. We are proud to serve Okemos, East Lansing, Holt, Haslett, Lansing, Michigan, and the surrounding areas.